Development Communities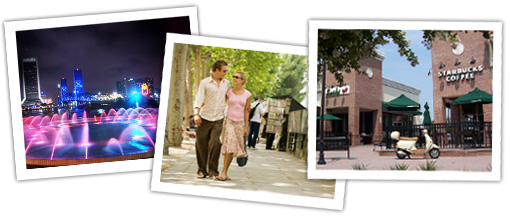 Riverside Historic District, Jacksonville, Florida
The Riverside Historic District is near the historic and trend-setting Five Points area, the bustling metropolitan hub of downtown Jacksonville and the scenic St. Johns River. The Riverside location and amenities makes its Jacksonville real estate and Jacksonville condos and lofts extremely desirable. The area contains classic architecture, culture, shopping, dining and a thriving arts community – all in a true walkable neighborhood setting.
The Riverside Avondale Historic District offers a wide variety of homes, from beautifully restored residences to new condominiums, lofts and townhomes. This eclectic neighborhood, convenient to downtown Jacksonville, appeals to professionals and young families alike who seek a home with art, shopping, dining and history just outside their doors.
In keeping with the area's distinctive architectural style, new construction in Riverside-Avondale displays an unusual combination of historic charm and modern amenities. One of Jacksonville's most well-established neighborhoods, choices in the Riverside Avondale Historic District for those in the market for the best variety of Jacksonville real estate will find waterfront homes on the St. Johns River, intimate condo communities, and lofts with urban style and open floor plans.
Residents of the neighborhood enjoy exceptional leisure time options, with quaint yet upscale shops along St. Johns Avenue, a grocery store and eateries at the new Riverside Market Square, charming shops and restaurants at the intersection of Park and King, and funky boutiques and nightspots at the nearby Five Points retail district. With convenience to the St. Vincent's Medical Center, jogging and biking paths in more than a dozen parks, the nationally renowned Cummer Museum of Art & Gardens and some of Jacksonville's best restaurants, the Riverside Avondale Historic District offers a rich quality of life on Florida's First Coast.
_______
St. Augustine, Florida
Ancient history provides the backdrop for the unique city of St. Augustine, in St. Johns County one of northeast Florida's most popular destinations for visitors from around the world. Miles of unspoiled oceanfront coastline and public beaches draw residents as well, with an abundance of recreational options for water sports enthusiasts. The area's barrier islands provide coves and waterways for boating and fishing, plus some of the most desirable real estate in the Sunshine State.
Oceanfront homes, waterfront condos and single-family homes are just some of the choices for buyers interested in St. Johns County real estate. Both older homes and brand-new construction are available, many with spectacular views of the surrounding waters and in close proximity to cultural and historic attractions.
Home buyers in St. Augustine enjoy the city's convenient location near Jacksonville, excellent public schools, and a mild climate that has helped make the area a center of major sporting events and organizations. St. Johns County is home to the World Golf Village, the PGA TOUR headquarters, and the headquarters of the ATP, the governing body for men's professional tennis. In Jacksonville, area residents may also enjoy NFL football, minor league baseball and annual events of national significance, including the classic collegiate Gator Bowl game.
Buyers in the market for St. Augustine real estate will find no shortage of exceptional properties, from oceanfront condominiums to private estate homes. Golf communities, beachfront real estate, new custom homes and more await those who seek the best in Florida real estate. With its beautiful weather, year-round outdoor recreational activities and rich history, St. Augustine is sure to remain one of the state's most attractive places to live.
______
Jacksonville Beach, Florida
The most popular choices in Florida real estate are oceanfront homes and other waterfront property, and Jacksonville Beach has no shortage of either. Sought-after home styles available here include oceanfront condos, waterfront communities, single-family homes and ocean view condos and townhomes. From quaint, well-established neighborhoods to brand-new construction, Jacksonville Beach and its neighboring coastal towns of Ponte Vedra Beach, Atlantic Beach and Neptune Beach offer something for anyone who seeks a laid-back life.
The adjacent city of Jacksonville, Florida, may be more well-known to non-Floridians, but Jacksonville Beach offers a unique charm of its own that visitors continue to discover. This Atlantic Ocean coastal community has miles of calm, uncrowded beaches, which can be enjoyed year-round thanks to the area's temperate climate. Amenities and entertainment choices abound, with world-class golf and tennis facilities, and shopping and dining districts with pedestrian-friendly streets. The oceanside Sea Walk Pavilion is often the center of activity, with symphony, jazz and blues concerts, cultural festivals and showings of classic movies, with most of these events free and family-friendly. The art scene is on the move, offering galleries and museums, and a monthly Art Walk that showcases the work of local artists at a number of venues throughout the beach business districts. With the ocean, Parks along the Intracoastal Waterway and St. Johns River, life in Jacksonville Beach also is sure to include boating, fishing and other water sports, from jet skiing and surfing to kayaking and sailing.
As word spreads on the great quality of life North Florida provides, real estate in Jacksonville Beach and its surrounding cities continues to be a good choice for investment property, vacation homes and permanent residences.
______
Amelia Island, Florida
Scenic North Florida barrier islands are the setting for Amelia Island, a haven for nature lovers and resort vacationers alike. A mild climate, unspoiled coastline and abundance of recreational activities combine to make the area one of the Sunshine State's best destination spots as well as an exceptional choice for Florida real estate.
Everything from condominiums and single-family homes to oceanfront homes are available for buyers seeking Amelia Island real estate. Prices range from affordable condos in the $300,000s to multimillion-dollar estate homes. No matter the budget, property owners in Fernandina Beach and Amelia City on Amelia Island enjoy the area's casual island lifestyle.
Once a Victorian seaport village, Fernandina Beach on Amelia Island retains its small-town ambience. Visitors from throughout Northeast Florida and Southeast Georgia return often to the quaint shops, popular restaurants and historic homes and buildings in the historic district. Water sports are one of the biggest draws to the island, which offers plenty of boating, fishing, kayaking and more on the Atlantic ocean, Nassau Sound and other waters that surround the area. Just a short drive to the south are all of the attractions and conveniences of big-city living in Jacksonville, an easy commute for Amelia Island home buyers.
Golf communities, oceanfront real estate and custom homes are just the beginning of the available Amelia Islands homes for sale to buyers in the market for coastal Florida real estate. Choices include homes with ocean or marsh views, gated communities and homes in the historic neighborhoods.
______
Daytona Beach, Florida
Ponce Inlet – An hour east of Orlando and minutes south of Daytona Beach sits the upscale beach community of Ponce Inlet. Few choices in Florida real estate offer new oceanfront homes, unspoiled natural surroundings and convenience to great destinations in one location. Ponce Inlet has it all, whether you seek Florida investment property or a dramatic new beachfront home to call your own. Oceanfront condos, waterfront homes, townhomes and more can be found on this scenic coastal barrier island, ranked #9 on the America's Top Ten Beaches list.
As the birthplace of NASCAR, Ponce Inlet's racing history is tied to the rise of motor sports in Daytona Beach, its neighbor to the north. For family fun, the attractions of Orlando are just a short drive from this Central Florida enclave.
The Ponce Inlet lifestyle offers residents and vacationers limitless ways to enjoy the outdoors, from its marinas to its world-class golf. The Halifax River to the west and the Atlantic Ocean shoreline to the east, Ponce Inlet is the ideal place to make the most of everything.
Ponce Inlet is home to the historic Ponce Inlet lighthouse, Florida's tallest, built in 1887. When the sun sets over the waterways, a favorite choice is sampling just-caught seafood delicacies in local restaurants found from Ponce Inlet to Daytona Beach.
_______

Cincinnati, Ohio
On the north shore of the Ohio River and tucked into a valley surrounded by seven hills, Downtown Cincinnati is a picturesque urban center that mixes a rich history with international industry leaders.
Downtown Cincinnati is regularly listed in the top ten of most livable communities in the United States.  From the Reds and Bengals' ball fields on the banks of the Ohio River to Proctor and Gamble's headquarters on Fourth Street to the local farmers selling their produce at the historic Findley Market in neighboring Over-the-Rhine, residents find a compact urban environment that provides entertainment, jobs, and day-to-day amenities without much more than a short walk.  Live, Work, Play.  In fact, Cincinnati was recently ranked tenth in the nation for walkability by Prevention Magazine.
Downtown and Over-the-Rhine combine to have one of the largest historic districts in the country and are filled with fine examples of Italianate and Germanic influenced architecture. Many of those buildings have been renovated with care as contemporary lofts and apartments. Some neighborhoods, like the area surrounding Music Hall and the new School for Creative and Performing Arts campus, that formerly only attracted urban pioneers have been rejuvenated with new amenities and retail to serve a broader residential customer base.  And, buildings within the Central Business District, like the former McAlpin's department store, have been renovated into top-notch multi-bedroom condos that put you right in the action of business, restaurants and Fountain Square.
Downtown Cincinnati is now a vibrant place for residents and lives up to the credo "Live, Work, Play" with even more amenities and projects planned or in construction for opening in the near future.  The Banks mixed use projects and the new forty-five acre riverfront park they surround have broken ground and promise even greater conveniences and options for downtown residents beginning in 2011.